Tour Seven Beautiful Gardens in Chatham as part of the Cape Cod Hydrangea Festival on Friday, July 16th from 10 A.M. to 4 P.M. Each garden has an admission of $5 (cash), which supports the Chatham Garden Club's missions of town beautification and scholarship. For more info about the gardens, see below.
Garden #1 : " A Horticulturist's Hydrangeas," 54 Colonial Drive, Chatham, MA
Route 6, exit 85(old exit 11), left at exit ramp to route 137 south to route 28. Left on route 28 to Colonial Drive on right. Park on right side.
Enter the garden through an archway made with fastigiate apple trees. View rare trees, including mature Lilac, Stewartia pseudocamellia, and Paper Bark maples. Also planted are the following trees: Cornus mas 'Golden Glory' (cornelian cherry) and Cornus kousa 'Gold Star'. Evergreen trees include Hinoki cypress and Pinus cembra (Swiss Stone Pine). You will see a variety of distinctive hydrangea species that include 'Mountain', 'Tiny Tuff Stuff', Lace Cap 'Blue Billow'and Quercifolia 'Little Honey', 'Snow Queen', and 'Alice'. Also, planted are Paniculata hydrangeas 'Unique' and 'Bobo,' Macrophylla 'Endless Summer' and many others. Some years ago, Mal Condon visited the garden to pick up a rooted cutting of hydrangea 'Pia' and brought a gift of hydrangea 'Penny Mac' which is happily growing in the garden today.

Garden #2: "Happy Ours," 78 Linden Tree Lane, Chatham, MA
Route 28 towards Chatham, past 2 rotaries to Agway Garden Center on right. Turn right just past Agway onto Linden Tree Lane. Park on the right hand side.
Bright masses of blooms, "to transform part of our backyard into an array of color", was the desire of the homeowners. The site presented a perfect opportunity to build a curvaceous sitting-height stone wall the entire width of the rear lawn, with a lively color garden above it to provide interest and pleasure throughout three seasons. With the clients providing the color palate, and requesting many of their favorite plants, Joyce used color repetition and visual patterns to harmoniously tie together this long, floriferous border. Seasonal garden maintenance is performed by the homeowners. Featured are "Limelight", "Nikko Blue", "LA Dreamin", "Everlasting Garnet", "Endless Summer" and "Invincible Spirit II" hydrangeas. More color comes from knockout and carpet roses, ornamental grasses and geraniums.
Garden #3:
"Goldenrod Garden," 95 Independence Lane, Chatham MA
Follow route 28 to Chatham rotary, right onto Stage Harbor Road. Continue to Independence Lane on right.

"Goldenrod Garden" is a beautiful landscape in transition to native plants, with multiple gardens to explore. The South Border has abundant native pollinator plants including perennials, grasses, and flowering shrubs, planted among traditional ornamentals. The Glory Garden is a colorful cottage garden full of bloom. The Woodland Garden is part of a 1-acre area being restored to coastal woodland with 100% native Cape Cod trees, shrubs, and herbaceous plants; a green place to wander on mowed paths among groves of trees and shrubs. Come be inspired by native plants adding beauty while supporting the ecosystem. Preview at www.goldenrodgarden.com.

Garden #4A and 4B: "
Chatham Bars Inn" on Shore Road, Chatham, MA
(Note:These gardens require a $10.00 admission fee. Complimentary valet parking will be available.)
Take a right on Stage Harbor Road, left onto Bridge Street and left onto Shore Road. Turn left on to Sea View Street and left into parking lot behind the Inn.


The iconic showplace Inn on Shore Road is not just an elegant vacation destination as it offers thousands of landscape plantings in a show stopping pink, white and blue pallet. The Back Circle entrance features " New Sensation" along with "Endless Summer" hydrangeas. "Annabelles" front the "Eastwind Cottage". The Front Circle facing the harbor is planted with "Merit Supreme", "Teller's Blue", "Endless Summer", red and white Twig Dogwoods and "Limelights". The annuals are changed seasonally 4 times a year. Along the cottages are Catmint, Dahlias, Globe Master Alium and purple "Pugster" Butterfly bushes. In front of the "Beach Plum" cottage is an apple and pear orchard with an heirloom apple tree over 100 years old! By the "Fox Run" cottage are rare deep burgundy "Endless Summers".
Featured in the May issue of "Chatham Magazine" is the breathtaking Spa entrance across Seaview Avenue. The driveway abounds with "Merit Supreme", "Endless Summer" and "Limelight" hydrangeas along with Beach Plum shrubs. There is also a Honeysuckle "living wall". This is a not to be missed opportunity to be spellbound by hydrangeas and the colors of the Chatham Harbor and ocean beyond. At an additional cost, a light bite and special beverage will be available at the "Bayview Bar" ( to the right of the back circle entrance ).
Garden #5: "Sea la Vie," 174 Eastward Road, Chatham, MA
Go left onto Shore Road, which runs into route 28 at light. Follow route 28 to Fox Hill Road on right. Follow Fox Hill Road past golf course to Strong Island Road on left. Turn right on Bassing Harbor Road and left on Eastward Road to #174. Park on the right side of the street.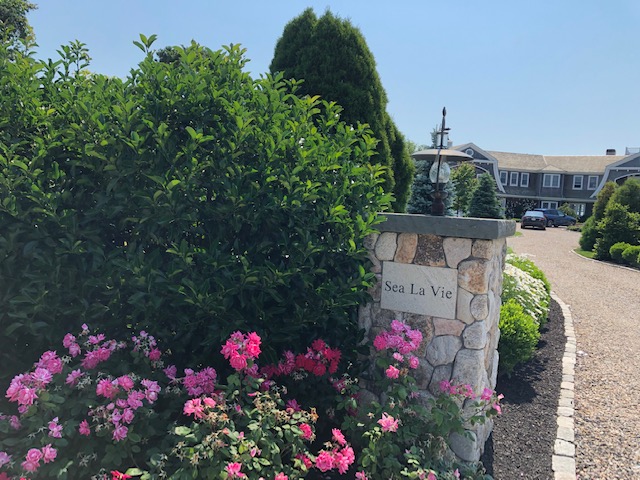 From 1917 to 1922, "Sea La Vie" was home to the Chatham Naval Base and, more specifically, the hanger for the Curtiss R-9 and HS-2L planes. Walking around the property you will see the old sea wall and remnants of concrete pads. One of the highlights of the gardens are the new raised vegetable beds. With over 200 square feet of plantings, there is always a lot to share with neighbors and friends. The recently installed drip irrigation system provides the proper amount of water. Each spring the crops are rotated and the soil enhanced with organic matter including crushed lobster shells. See if you can find a vegetable that is usually green, but in this garden purple!
Garden #6: "Ta – Da," 164 Strong Island Road, Chatham, MA
Follow Eastward Road to Bassing Harbor and turn right on Strong Island Road to 164 on right. Park on the right side of the street.
Traveling along Fox Hill Road takes you past amazing views of the outer beach on your way to Strong Island Road. After turning left onto Strong Island Road you head straight toward Pleasant Bay, just before the Town Landing: "Ta-Da," you've arrived. The white house faces south and sits sentry to the marsh, where blue and white Hydrangeas display their blue and white pom pom's, cheering on the long days of summer. The home was recently raised and totally renovated to take advantage of the sloping yard and benefits of the peaceful marsh. Mingled among the blue and white Hydrangeas are roses, lavender, peonies, berry bushes, fruit trees, and a number of raised bed gardens. Among the many flowers is the one from the "Sound of Music." Can you find it?